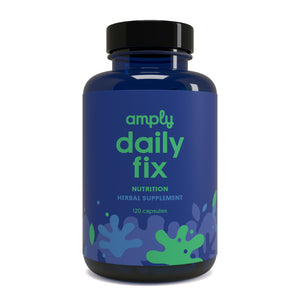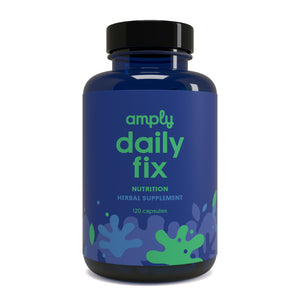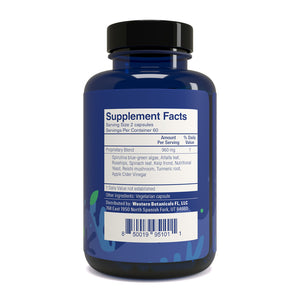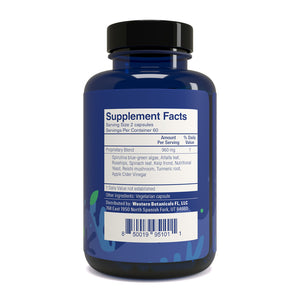 On Sale
Daily Fix
It's not easy to get the nutrition you need on a daily basis. That's why we created this balanced blend made from whole foods and super foods. Whether you're looking to help support energy and vitality or simply build better health in general, this powerful mix is a perfect addition to your day.*
Ingredients: Spirulina blue-green algae. Alfalfa leaf. Rosehips. Spinach leaf, Kelp frond, Nutritional Yeast, Reishi mushroom, Turmeric root, Apple Cider Vinegar

Value: Wildcrafted and Organic, Cruelty-free, Gluten and Soy-free, Vegan
Serving Size 2 Capsules:
                            Put an end to that post-workout hurt with this natural option that provides ready relief. *
100% INGREDIENT TRANSPARENCY
Spirulina Blue Green Algae Powder
Spirulina is a type of blue-green algae that contains a number of nutrients, including B vitamins, beta-carotene, and vitamin E. Spirulina also contains antioxidants, minerals, chlorophyll, and phycocyanobilin and is commonly used as a source of vegan protein.
Alfalfa Leaf Powder
Alfalfa is a source of vitamins A, C, E, and K4; and minerals calcium, potassium, phosphorous, and iron.
Spinach Leaf Powder
Spinach is an extremely nutrient-rich vegetable. It packs high amounts of carotenoids, vitamin C, vitamin K, folic acid, iron, and calcium.
Rosehips Powder
Rosehips are packed full of vitamin C, E and B, and other antioxidants and minerals. You cannot get rosehip naturally in foods. Rosehip comes from a certain wild rose.
Kelp Leaf Powder
Kelp contains the following vitamins and minerals: Vitamin K, Folate, Magnesium,
Iron, Vitamin A, Pantothenic acid, and Calcium.
Nutritional Yeast Powder
Nutritional yeast is a great source of vitamins and minerals. It also contains all nine essential amino acids, making it a complete protein like those found in animal products.
Reishi Mushroom Powder
Reishi mushroom has been used to help enhance the immune system, reduce stress, improve sleep, and lessen fatigue.
Turmeric Root Powder
Turmeric contains minerals such as manganese, phosphorus and potassium. Turmeric is used in Ayurvedic medicine to strengthen healthy joints.
Apple Cider Vinegar Powder
Apple cider vinegar has various healthful properties, including antioxidizing effects.