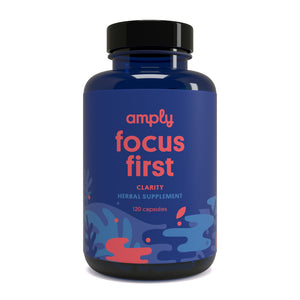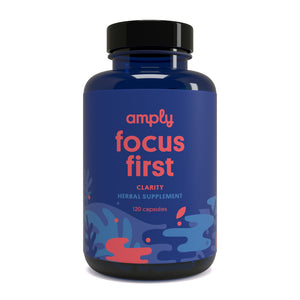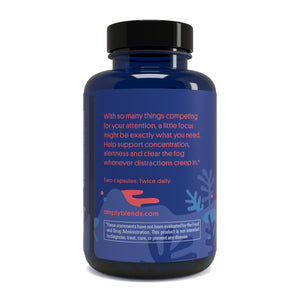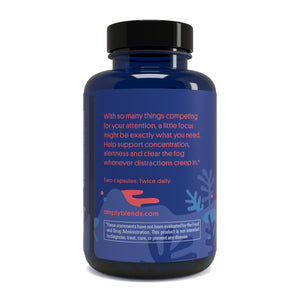 On Sale
Focus First
Calls. Meetings. Emails. Emails with exclamation points. There's so much competing for your attention. What you desperately need is a little focus. Focus First includes herbs such as ginkgo leaf to promote blood and oxygen circulation to the brain. Help support concentration and alertness, while clearing the fog.*
Ingredients: Ginkgo leaf, Rosemary leaf, Kola nut, Ginger root. Turmeric root, Cayenne Pepper fruit. Apple Cider Vinegar

Value: Wildcrafted and Organic, Cruelty-free, Gluten and Soy-free, Vegan
100% INGREDIENT TRANSPARENCY
Ginkgo Leaf Powder
Ginkgo Biloba powerfully supports focus, memory and mental performance, increases your concentration, enhances cognitive functions, and promotes mood regulation.
Rosemary Leaf Powder
Rosemary extract (Rosmarinus officinalis) is loaded with vitamins and minerals and is rich in antioxidants. Rosemary may help support memory and cognitive function.
Kola Nut Powder
The effect of kola is less abrupt and longer-lasting than that of coffee. Kola nut is a strong stimulant, stimulating and non-soporific, can help reduce fatigue & provides energy by stimulating the muscles and nerves, increases concentration, clears the brain, works as a light aphrodisiac
Ginger Root
Ginger root extract (Zingiber officinale) is loaded with antioxidants and acts as natural joint support.
Turmeric Root Powder
Curcumin has powerful antioxidant effects. It neutralizes free radicals on its own but also stimulates your body's own antioxidant enzymes.
Cayenne Pepper Powder (200-250K HU)
Contains powerful antioxidants and is loaded with vitamins and minerals, including vitamin C.
Apple Cider Vinegar Powder
Apple cider vinegar has various healthful properties, including antioxidizing effects.